A new beginning
Back in 2015, Toke Kruse approached my partner and I to start a company that made payroll accessible for start-ups and small companies. Then current solutions were outdated and hard to administer, and we saw an opportunity in the market for this specific segment.
Another group of guys in our network was coincidentally working on the same idea. We quickly realised merging forces was perfect match and Salary was born.

My role on this journey was everything design related. Most of my time and focus went into creating the product from ground 0.

Today, Salary is the most popular application for payroll management for start-ups and smaller businesses in Denmark.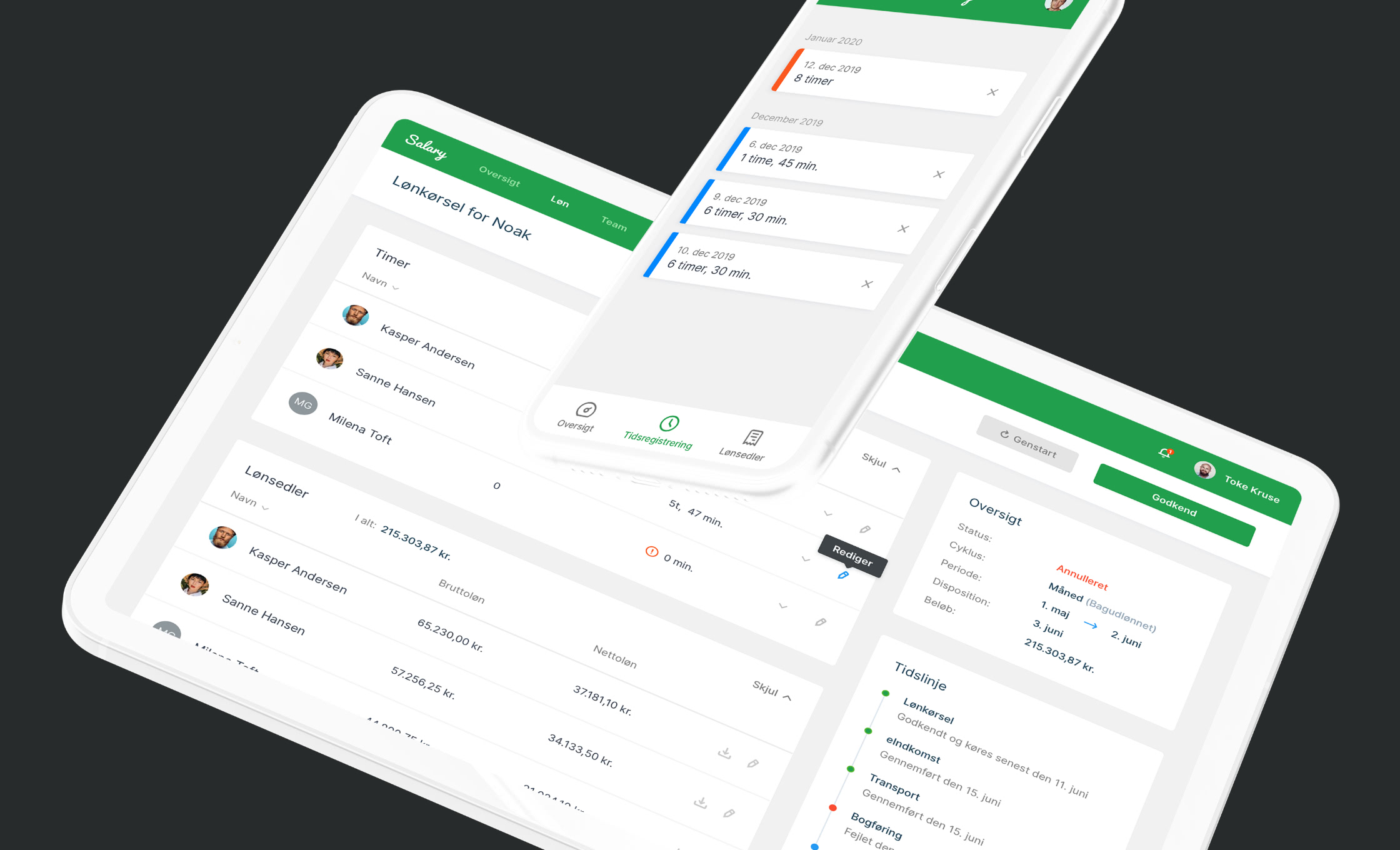 Research and strategy
Building a platform from the ground up is difficult, and a lot of initial research went into early planning and structural design. Especially interviews and information gathered from customers using existing payroll solutions became highly valuable in my process.

Detailed research, Q&A sessions and design exploration phases gave us a great foundation for the creative work. From here I moved to creating actual user goals and user flows and later wireframes.
Underneath is a tiny portion of some flows I created in this process.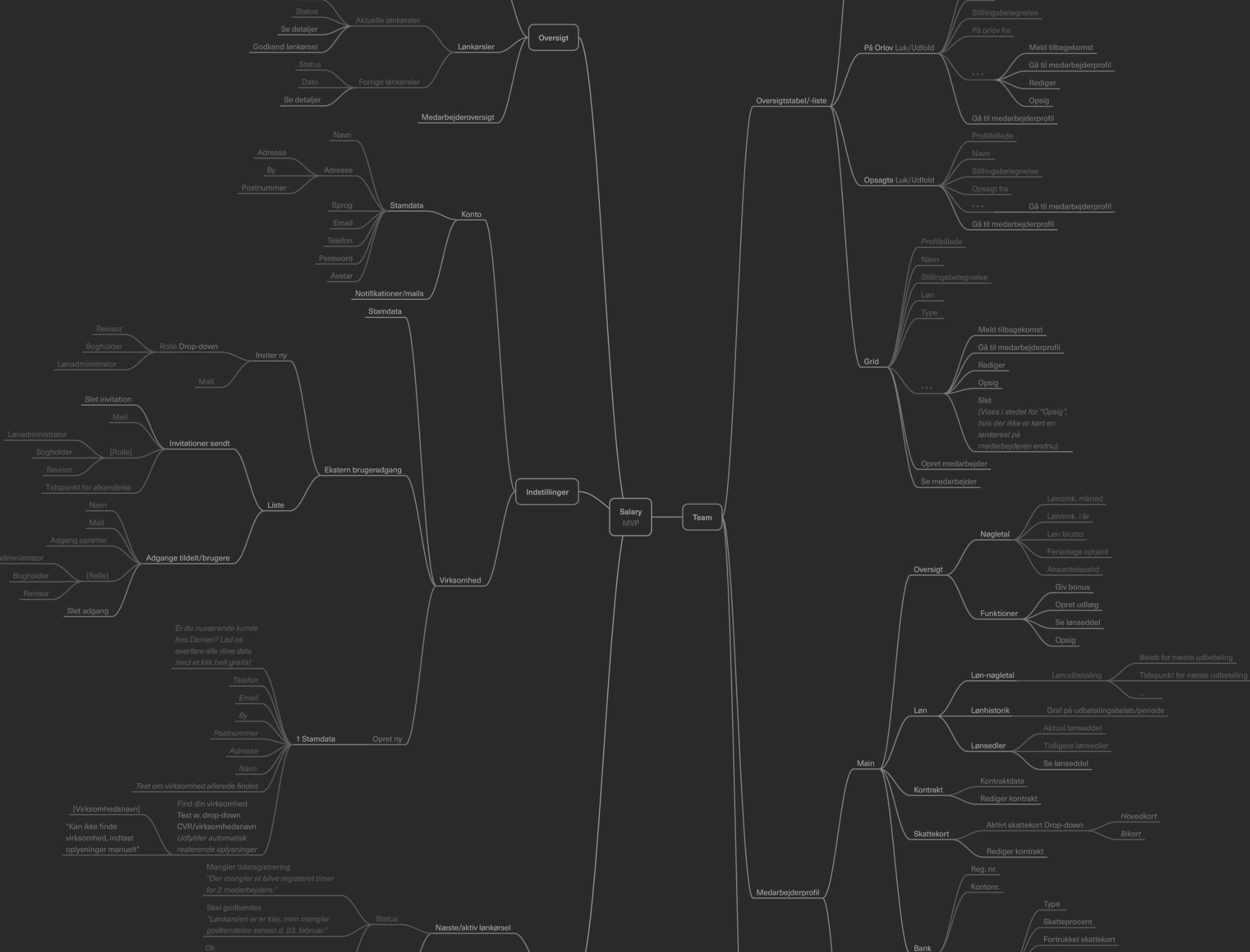 A color scheme that elevates both the user experience and brand image.
Early in the process I realised how I wanted to maneuver our brand positioning and really distance us from the old conventions and unprogressive associations led by our competitors.

I created an identity that was fresh and playful while adhering to a fundamental feel of trust and professionalism. I achieved this with a powerful color palette for our times, with modern illustrations and iconography wrapped in a framework of a clean and intuitive user interface.
An engaging interface in a otherwise boring market
I created a compact design system that could adapt over time if needed. The interface makes it extremely easy for any start-up or small company to manage payroll in a matter of minutes from setup to finish.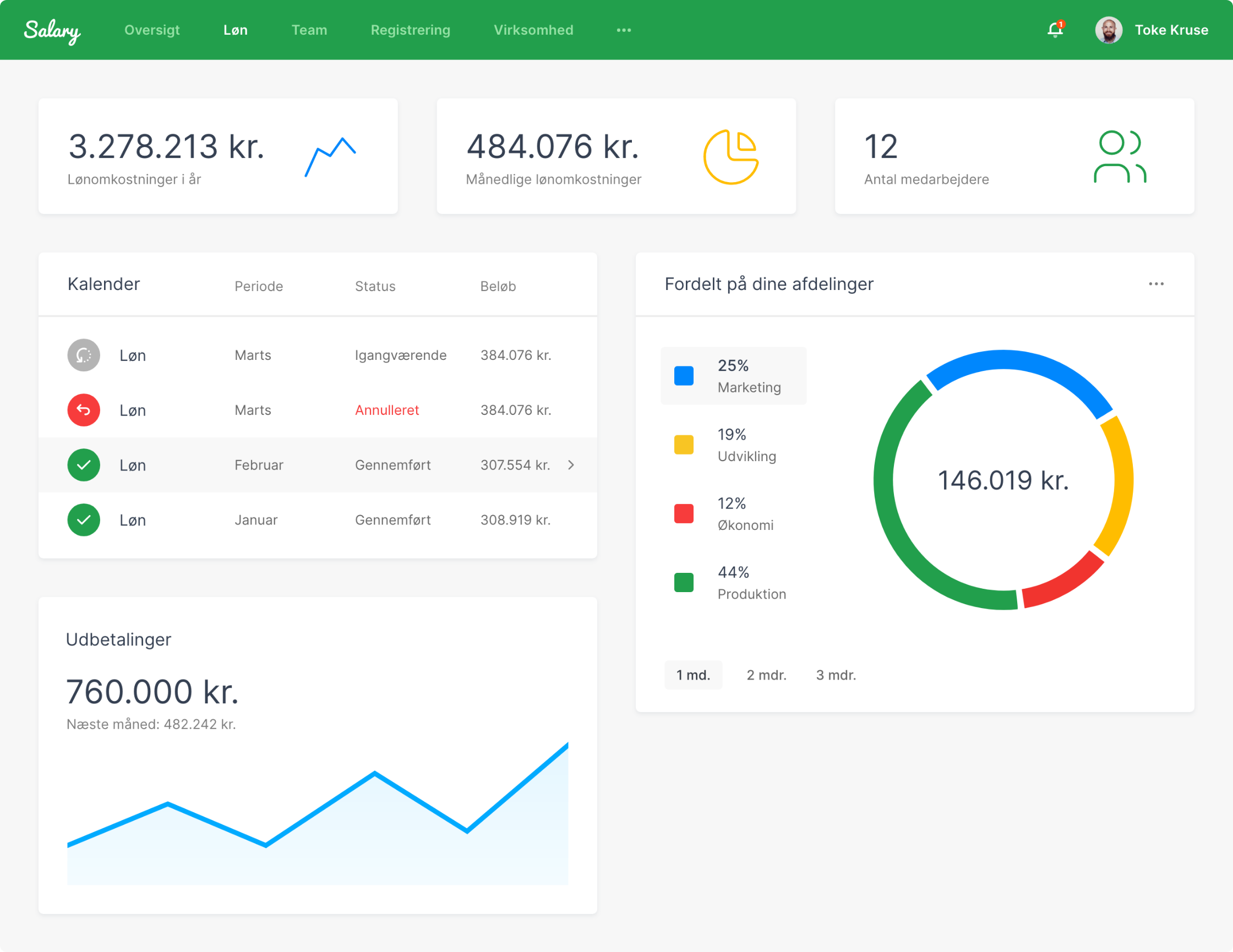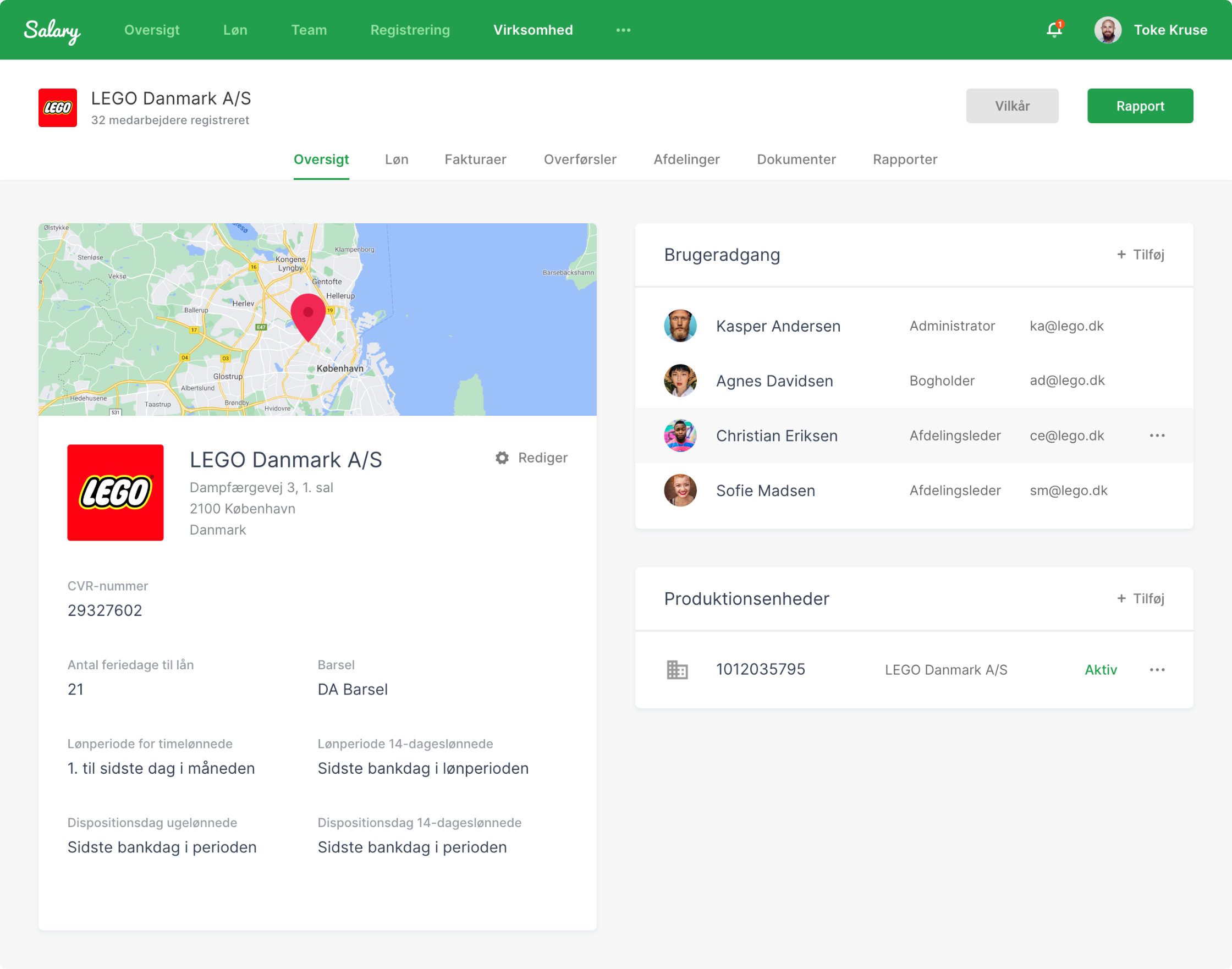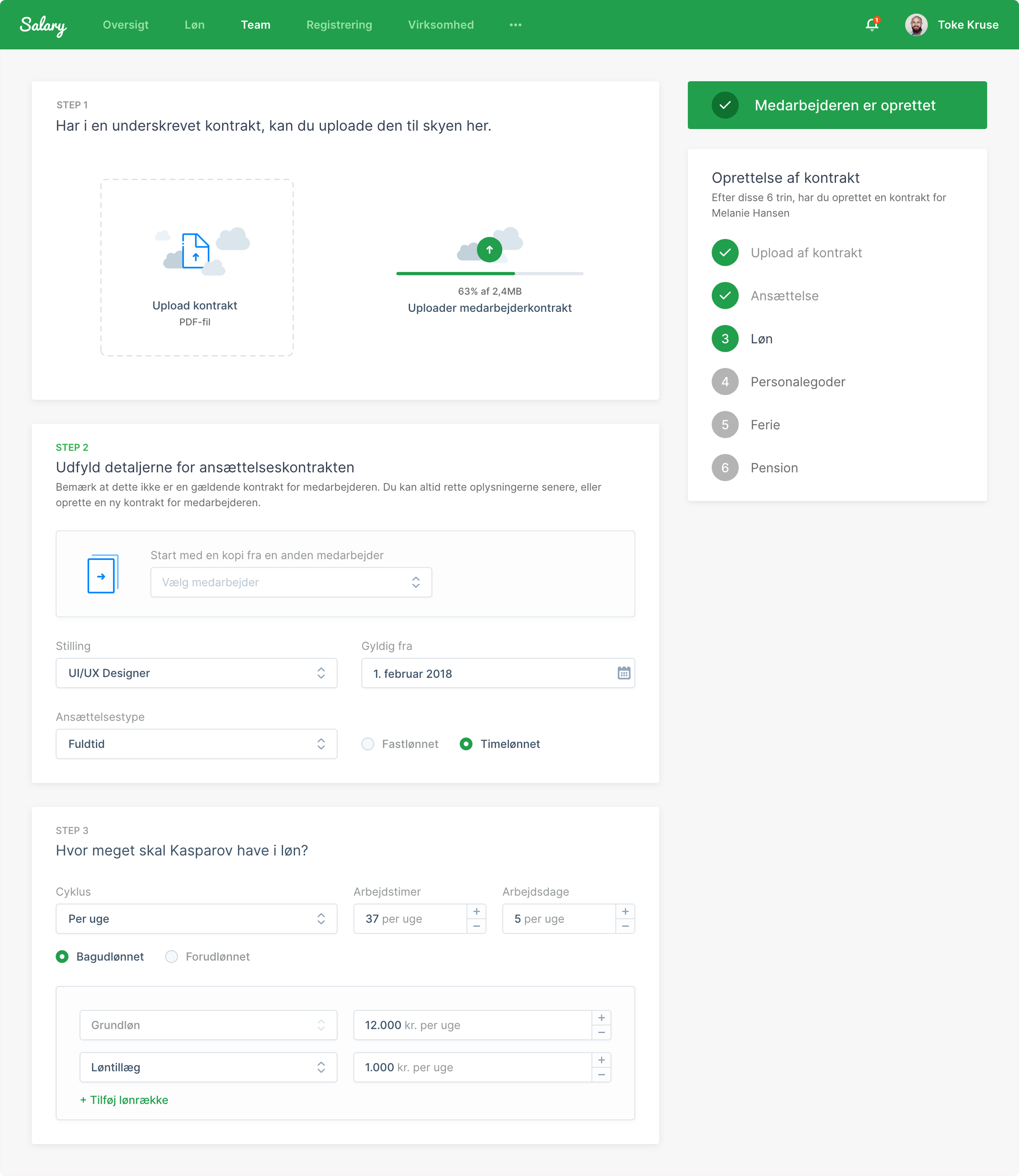 More interface will be uploaded soon.
The result
Salary is one of those projects im extremely proud to present because of how well received the product design has been. But the success of Salary truly has come from splendid team work. Salary was born from a team of extremely talented people that I was fortunate to be part of.

Today hundreds of danish companies are paying salary every month to thousands of workers through Salary - it being full-time, part time or freelance.

To seek new opportunities and work on other exciting projects, I sold my shares in 2018.
1 mia. kr.
Paid through Salary as salary
12 mil. kr.
Received in funding
Based on 76 reviews from Trustpilot
"Af de systemer jeg har prøvet er salary.dk det mest overskuelige og mest brugervenlige."
"Det er et nemt og intuitivt system som virker fantastisk."
"Fantastisk nemt system, intuitivt og ekstrem brugervenligt"
"Nemt og overskueligt, der er virkelig tænkt på brugeren"
"Fremragende service og super nemt at bruge"